Edited: February 9th, 2012
"Read the Abe's" is a new series were I, your friendly, neighborhood librarian, highlights an Abraham Lincoln Award nominee every other week."
Going Bovine by Libba Bray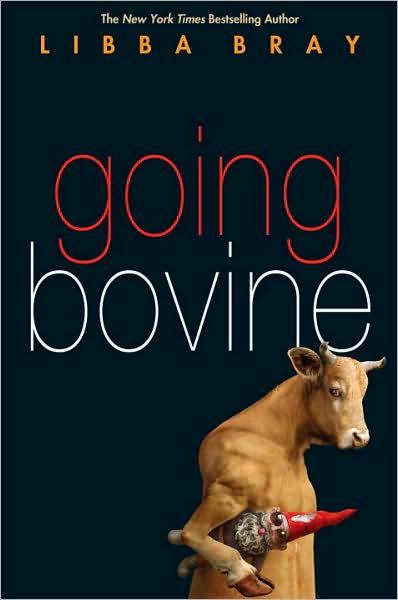 Going Bovine is a hard one to explain, but what a wild, crazy, and fun read!  After being diagnosed with a terminal illness, Cam sets out on wackiest of all road trips to find a cure.  He believes there is a cure because Dulcie, his quirky, punk guardian angel tells him there is.  That's only the beginning of the strangeness. Cam is also accompanied by a video game obsessed dwarf and a garden gnome who claims to be the Nordic god, Baldur.  The rest of the book can best be summed up…hilarity ensues.  How can it not with a crew like this?  The best and the most frustrating part of this books is that you never quite know if this story is happening in real life or if Cam is just hallucinating it.  Bray provides ample evidence for both, but she never says definitively either way.  I like that she leaves it up to the reader to decide.  This is a great book for people who enjoy reading about heavy subjects with a healthy dose of humor.
Next Up:  Wish You Were Dead by Todd Strasser
Edited: February 9th, 2012
Here are the Top Ten Graphic Novels and Manga of 2011!
1. Naruto Vol. 50 by Masashi Kishimoto
2. The Walking Dead, Book 1 by Robert Kirkman
3. The Walking Dead, Book 6 by Robert Kirkman
4. The Walking Dead, Book 2 by Robert Kirkman
5. Maximum Ride by James Patterson
6.  Brightest Day by NaRae Lee
7.  The Walking Dead, Book 4 by Robert Kirkman
8. The Avengers, Vol. 1 by Brian Michael Bendis
9. Black Butler by Yana Toboso
10. Scarlet by Brian Michael Bendis
Again, these are just the Top Ten. Graphic Novels and Manga were super popular this year. You all checked out over 1,342 individual titles out of the 1,645 titles in the collection.  That's over 80%!
Edited: February 1st, 2012